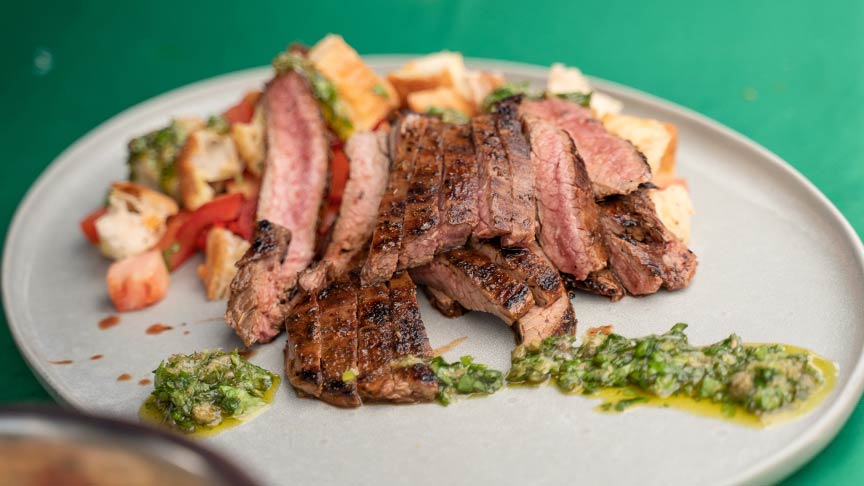 By Michael van de Elzen
Serves 4
Ingredients
500g Green Meadows Beef skirt steak
8 baby vine tomatoes, quartered
100g Kalamata olives
½ jar peppadews
Handful of chopped Italian parsley
3 tablespoons olive oil
2 tablespoons good quality red wine vinegar
1 loaf ciabatta
Flaky salt
Pepper

Salsa Verde (makes 1 cup):

½ cup basil leaves, chopped
½ cup Italian parsley, chopped
2 tablespoons baby capers, drained and chopped
1 clove garlic, crushed
Zest and juice of 1 lemon
2 tablespoons olive oil
2 tablespoon finely grated Parmesan
2 tablespoon avocado oil
Sea salt
Freshly ground black pepper
Season the beef with some flaky salt and pepper, cook on a barbecue over a high heat to avoid the beef from stewing. When well coloured remove and rest. Tear the ciabatta into pieces, drizzle with olive oil and sprinkle with salt. Fry on flat plate for about 10 minutes until crispy.
In a large bowl, combine the bread, tomatoes, olives, peppadews and parsley. Dress with the combined oil and vinegar and season.
For the salsa verde, place basil, parsley, capers, garlic and lemon zest in a bowl. Add enough olive oil to make the mixture wet. Add Parmesan, remaining olive oil and avocado oil. Then add lemon juice, mix and season to taste.
Slice the beef into thin slices and skewer, serve with the bread salad and salsa verde.