The FMG Spot Check Roadie hits the road
The FMG Spot Check Roadie kicked off last year and visited four locations around the country, for full results check out below. And this year we're heading out again with our partners Melanoma New Zealand. If you've got a spot you're concerned about, come and see us to get it checked and receive life-saving information to help you and your family look after yourself in the sun.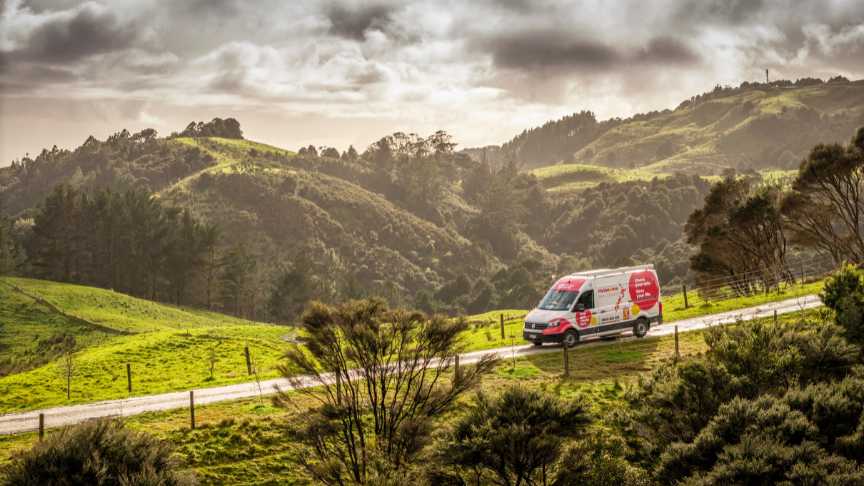 | Event | Location | Date |
| --- | --- | --- |
| Henley Community Hall | Henley | 12 December |
| Southern Field Days | Waimumu | 14 & 15 February |
| Shepherdess Muster | Motu | 17 February |
| Northland Field Days | Dargaville | 1 & 2 March |
| Central Districts Fieldays | Feilding | 14, 15 & 16 March |
| Marlborough A&P Show | Blenheim | Complete |
| Tarananki Wellness Days | Uruti & Oaonui | Complete |
| Farmlands | Putāruru | Cancelled (weather) |
| Ruralco | Ashburton | Complete |
| FMG Young Farmer of the Year Grand Final | Winchester | Complete |
| Farmlands | Te Puke | Complete |
| Farmlands | Alexandra | Complete |
| FMG AGM | Cromwell | Complete |
| Federated Farmers Advice & Connection Event | Waihi | Complete |
| Carters | Pukekohe | Complete |
| Young Grower of the Year, National Final | Pukekohe | Complete |
Looking after your most important asset
At FMG we're well known for covering farmers and growers for their insurance needs. But we're also passionate about making sure your most important asset (yourself and your family) is well looked after. In New Zealand, we have the highest rates of melanoma in the world. And for those of us who work outdoors, the risks are even greater. That's why we partnered with Melanoma New Zealand to go on a Spot Check Roadie across the country. Check out the results of our Spot Check Roadie below and keep an eye out for future dates!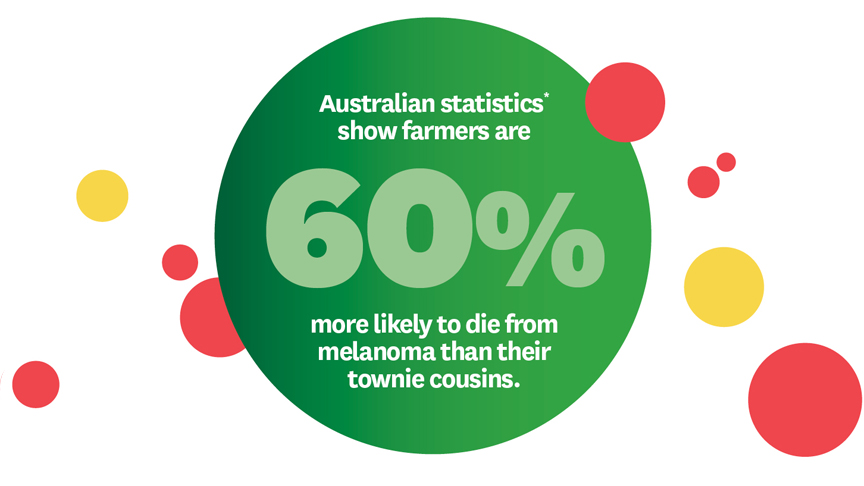 What we found in 2022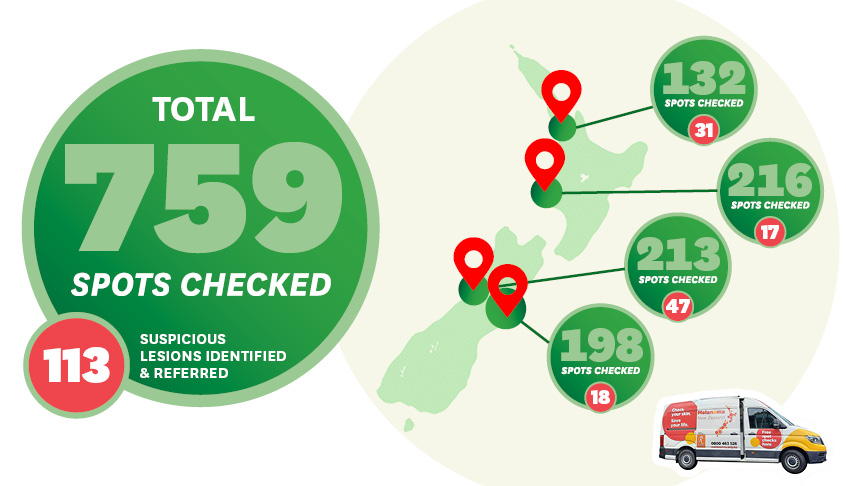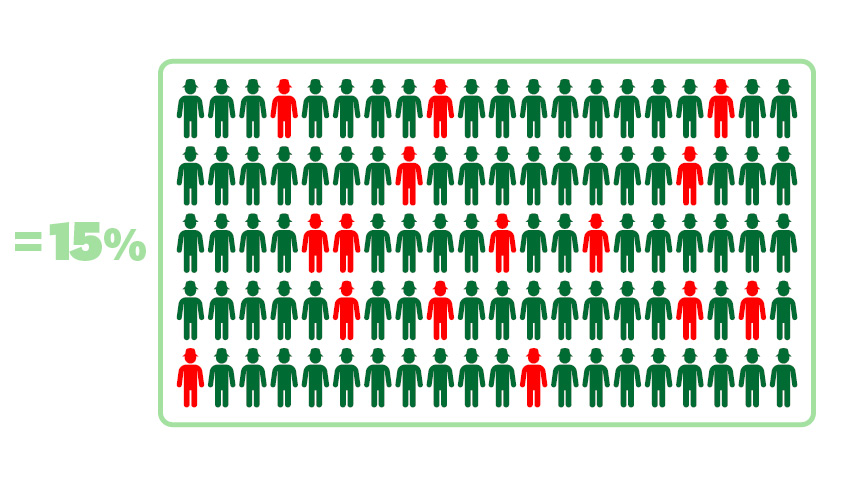 The spot checks are something you've just got to do these days. We've had friends who've had bits and pieces chopped out and we're at that age now.
Christine and Don Munro - Tarata farmers
What's a spot check?
A spot check is where a qualified nurse or practitioner checks a few moles or lesions you may be concerned about, with a dermascope to look for skin cancer. The spot check is not a diagnosis, but instead offers a qualified opinion on whether the spot is suspicious and needs further investigation. If Melanoma New Zealand discover suspicious spots, the findings will be sent to your GP. Melanoma New Zealand provide spot checks for free.
A spot check is not a skin check. A skin check is a full check of your whole body. To get a skin check contact your GP or check out the providers on the Melanoma New Zealand website. Please note that a skin check is not free.
Another safe spot
Melanoma is the third most common cancer in men and women in New Zealand
6,000 people are diagnosed with melanoma in New Zealand every year
Melanoma accounts for nearly 80% of all skin cancer deaths in New Zealand
Over 300 Kiwis die from melanoma every year
Around 70% of melanoma cases occur in people ages 50 years and older
While Māori and Pasifika people may have a lower chance of getting melanoma, they often have thicker, more serious melanomas
Melanoma rarely occurs in children
Death rates are higher among men and appear to be increasing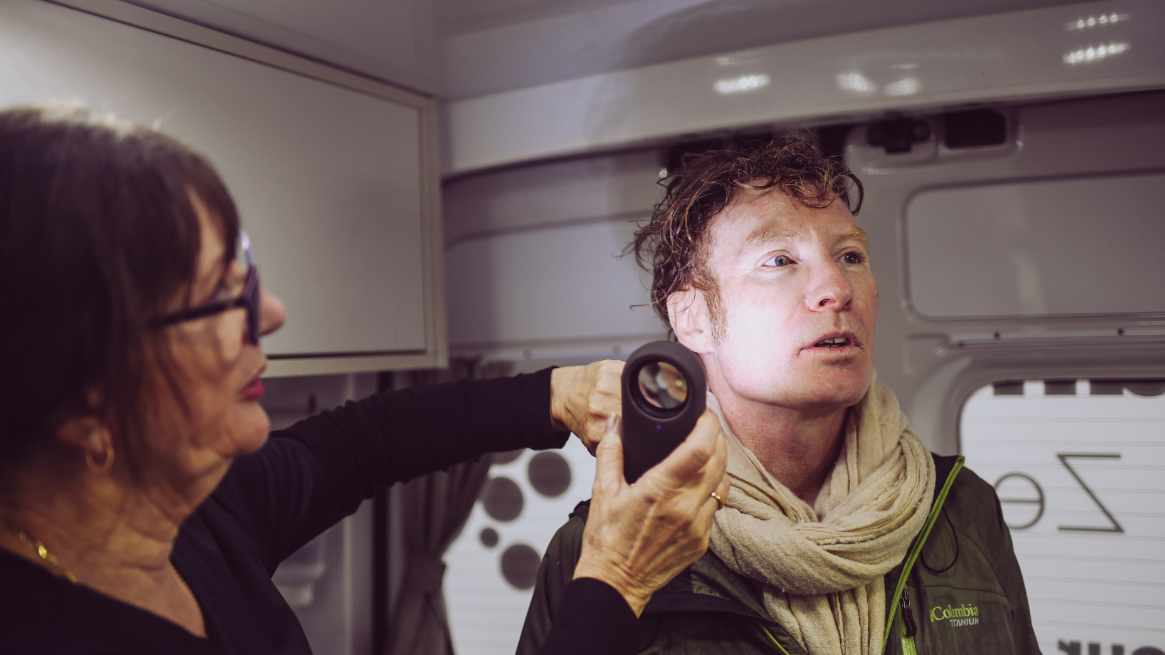 "FMG partnering with Melanoma New Zealand is invaluable. Many of us in New Zealand, like our farmers and growers, spend the majority of their day outdoors, so melanoma is a huge risk.

The stories that were shared at the FMG Spot Check Roadie in the West Coast 2022 were incredibly touching. When you have people walking onto the site saying "If anyone is hesitant in getting a spot check, come and get me because I'm happy to talk to them about how melanoma changed my life" it speaks volumes about how important it is to get the message out.

The ability to learn more about melanoma, how to prevent it, have spots checked and to share experiences with local people is hugely valuable for rural communities. A partnership worth its weight in gold."

Amanda Lockwood | Life & Health Adviser, FMG
Check out real stories from New Zealanders who've suffered from Melanoma
Knowledge is key, so these brave Kiwis have shared their personal experiences of how melanoma has impacted their lives, and what they wish they knew.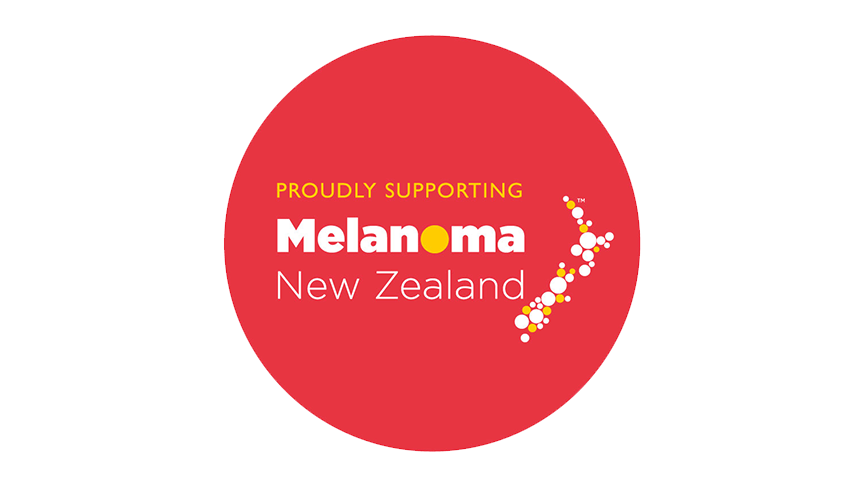 Get educated for free
If you're a client of FMG, you can access Melanoma New Zealand's training programme for free! It's an online programme that only takes 30 minutes of your time and could safe your life.