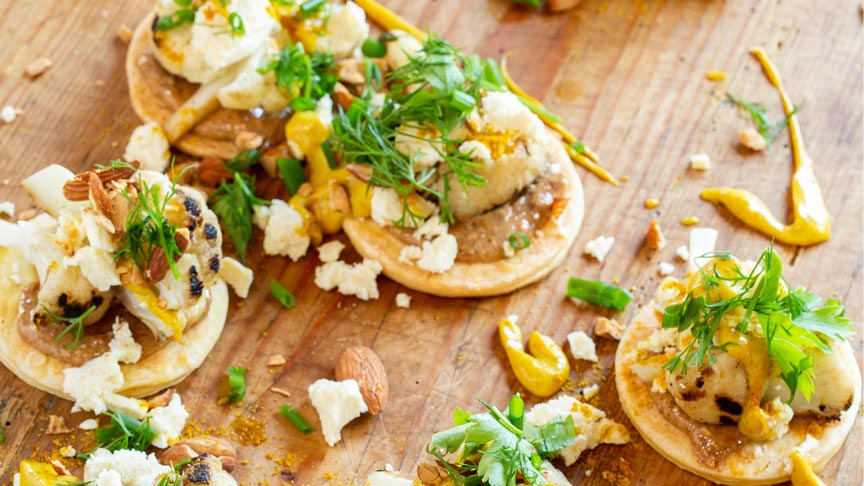 By Michael Van de Elzen
Makes 6 tarts
Ingredients
2 sheets ready made puff pastry, cut into 8-10cm circles
1/4 cup almond butter or almond paste
1 cauliflower head
2 Tbsp olive oil
Sea salt
Freshly ground black pepper
100g crumbly sheep's feta
50g roasted almonds, crushed
3 Tbsp fresh mint leaves, torn
3 Tbsp fennel fronds
3 Tbsp fresh basil leaves, torn
handful baby rocket leaves
Preheat oven to 180*C. Place the puff pastry discs between two sheets of baking paper, between two baking trays and bake for 10-12 minutes. Once baked and cooled slightly, spread with the almond butter.
Cut or break the cauliflower into small florets and blanche in boiling salted water. Drain, then toss in olive oil and season with salt and pepper. Chargrill the cauliflower on a hot BBQ, or in a chargrill pan.
In a bowl, combine the cauliflower, feta, almonds and herbs. Toss together with the curry oil. Arrange on top of the pastry and drizzle with a little of the excess curry oil.
Ingredients for curry oil
2 Tbsp curry powder
4 Tbsp canola or vegetable oil
In a small saucepan, bring the oil and curry powder to a simmer then remove from heat.