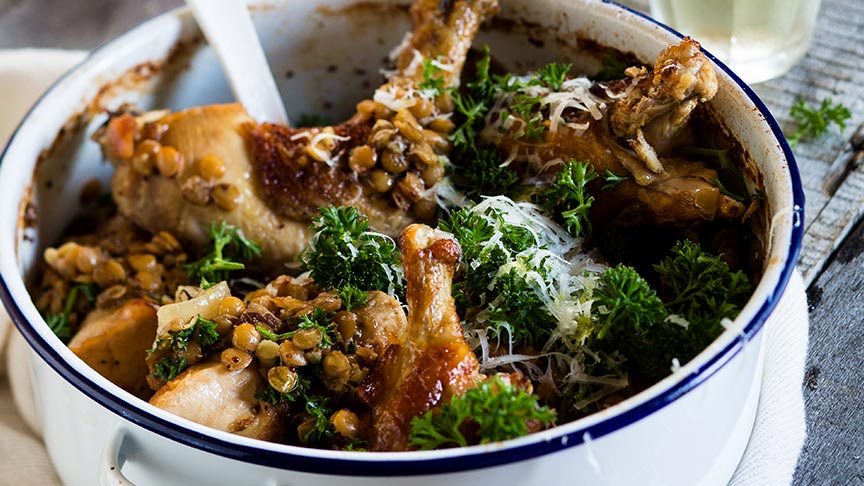 By Michael Van de Elzen
If you were to say to me, "Mike, I need a recipe that's wholesome on a cold winter's night, really quick to cook and is a one pot wonder!", I would say look no further. This is my go-to dish for limiting the dishes and it is super quick to whip up.
The Dijon mustard gives the dish all the flavour and the lentils fill you up for longer periods of time. Have a number of people to cook for? Just double or even triple the recipe.
Ingredients
1 size 14 chicken, portioned into 8 pieces
½ litre chicken stock
2 Tbsp Dijon mustard
1 x 400g tin lentils in springwater
1-2 fresh bay leaves
½ cup chopped fresh curly parsley
3 Tbsp finely grated fresh parmesan
1 Tbsp olive oil
1 tsp salt
1 tsp black pepper
1 loaf crusty white bread to serve
Preheat the oven to 160*C. Season the chicken pieces with salt and pepper. Heat the olive oil in a large frying pan and sear the chicken until browned. Place in a large oven-proof casserole dish along with the mustard, chicken stock, lentils and bay leaves. Cover and put in the oven for 30 minutes. Remove the lid and cook for a further 20-30 minutes.
Sprinkle over the chopped parsley and parmesan, and serve with the crusty bread.