At the moment we have loads of fennel growing in the tunnel house. And with the level 4 lockdown, we are having to find other ways to use it. Most of the time I tend to slice it thin, add a touch of cold water and lemon juice to it and then use it in salads etc. However, it's cold and I don't know about you, but I don't really feel like a salad!
This soup is not only packed full of flavor, the lentils go a long way in keeping you fuller for longer. Also, if you find yourself outside for most of the day on the farm, just pack it into a thermos. Feel free to add some cooked chook or even some shredded leftover roast.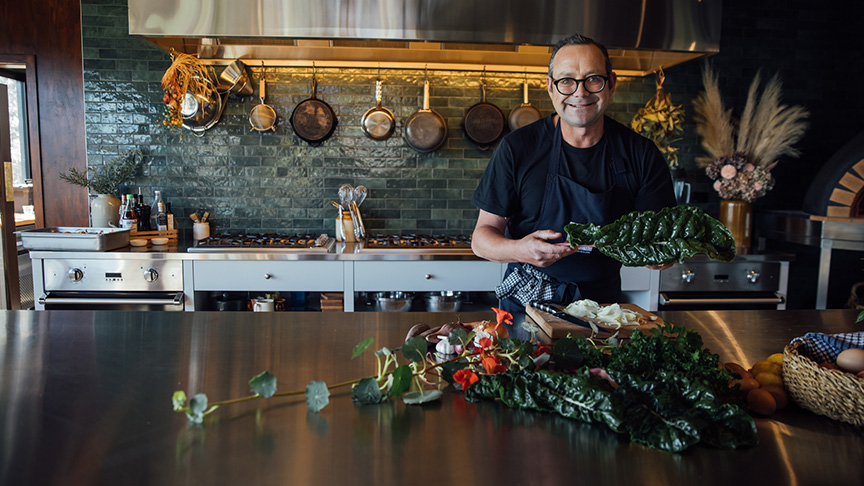 By Michael Van de Elzen
Serves 6
Ingredients
2 cups Le Puy lentils or french lentils
1 litre vegetable stock
2 white onions, roughly chopped
1 whole bulb garlic, broken into cloves and peeled
½ blub fennel
1 can whole peeled tomatoes
2 cups chopped swiss chard or sliverbeet
3 Tbsp cooking oil
1 tsp smoked paprika
½ tsp chili powder
flaky salt
freshly ground black pepper
Preheat the oven to 180*C. Place the garlic cloves into a small frypan and drizzle over 1 Tbsp of oil and sprinkle of salt. Place the frypan into the oven and roast for 10 minutes. Remove and allow to cool. Smash the garlic with the side of a knife.
In a large saucepan add a Tbsp of oil, sauté the onion, half of the roasted garlic, smoked paprika and chili powder. Rinse and drain the lentils, then add them to the pot along with the tomatoes and fennel. Add the stock and cook until the lentils are just tender. Before you serve heat a frypan, adding a Tbsp of oil and quickly sauté the sliverbeet until just wilted, adding to the soup. Season with salt and pepper. Divide evenly between 6 soup bowls. Serve with the garlic ciabatta bread.
---
Garlic ciabatta
1 ciabatta baguette
125g unsalted butter, softened
½ of the roasted garlic bulb
2 Tbsp chopped fresh watercress (optional)
2 Tbsp chopped fennel fronds
1 Tbsp chopped fresh thyme
salt
freshly ground black pepper
Cut the baguette into 4 equal pieces, then cut each piece in a cross pattern, taking care not to cut all the way through the baguette. Mix all the other ingredients until well blended. Butter each section of the baguette generously, wrap all the bread in baking paper and bake in the oven for 10-12 minutes.