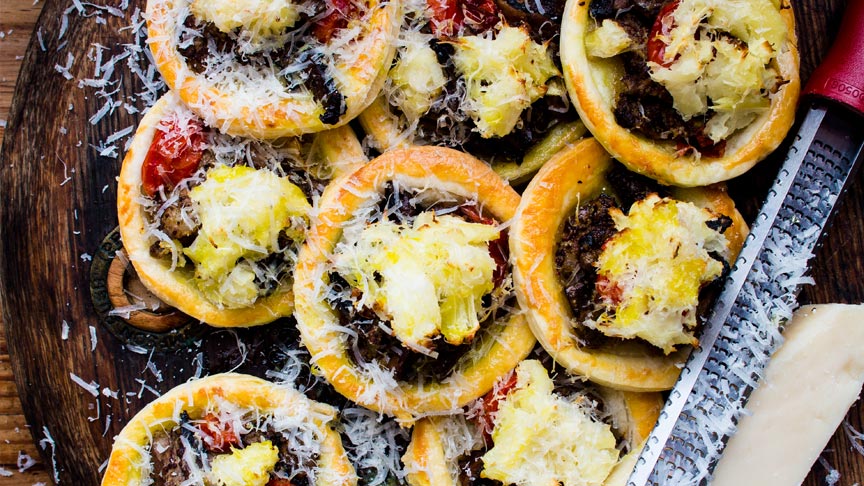 By Michael Van de Elzen
Makes 8 pies
The great thing about these pies is they are super-fast to make and you can easily change out the flavors to suit your needs. If you are feeling like it, instead of making little mini ones you can opt for making a big family sized pie and chop it up. They are just as good cold, but it's a dish you can whack into the oven the moment you get back from a day on your block or farm and have a hearty, warming dish for the family.
Ingredients
2 sheets puff pastry
400g lamb shoulder chops
2 Tbsp Dijon mustard
6 field mushrooms, peeled
1 punnet cherry tomatoes
2 Tbsp olive oil
2 large parsnips, peeled and roughly chopped
150 ml milk
250 ml water
2 eggs, beaten
3 Tbsp finely grated fresh parmesan + 1 Tbsp to garnish)
salt
black pepper
Preheat oven to 180*C. Drizzle the mushrooms and cherry tomatoes with olive oil and season. Roast in the hot oven for about 20 minutes, or until the tomatoes are starting to burst. Meanwhile, cut out 8 circles in the puff pastry using a cup or pastry cutter (about 8-10cm diameter). Now using the bottom of a smaller cup or similar, press the inside of the circles down so each one has a deeper center and raised rim. Prick the middle of the circles with a fork.
Season the lamb chops with salt and pepper and saute in a hot frying pan until tender (about 10 minutes). Pull the meat off the bone and roughly chop. In a large bowl, mix the lamb with the Dijon mustard.
Place the parsnip, milk and water in a saucepan and bring to the boil. Cook until the parsnip is tender, then drain, season and mash until smooth.
Chop the roasted mushrooms and mix with the lamb and tomatoes. Fill the pastry cases with the lamb mix, then spoon some of the parsnip puree on top of each. Brush the outside rim of the cases and the top of the parsnip with eggwash and sprinkle a little parmesan over each pie.
Cook for 12 minutes, remove from oven and grate a little extra parmesan over each pie to serve.