I first had this dish when I was staying with my wife's Aunty Chris in Hamilton. She is a fantastic cook and didn't let us down with this recipe. I have adjusted the recipe somewhat and put a slightly Asian twist into it using fresh ginger and star anise, so it's full of flavour! This recipe is designed for wild duck but as it wasn't quite duck season when I created the recipe, I had to use a store brought bird - so it's a wee bit bigger than a wild type.
This will affect the cooking time a bit so maybe pull back your cooking time to two hours if you are cooking a small, wild bird. Serve with some boiled baby jacket potatoes and maybe some steamed greens. Drizzle that beautiful gravy all over your plate!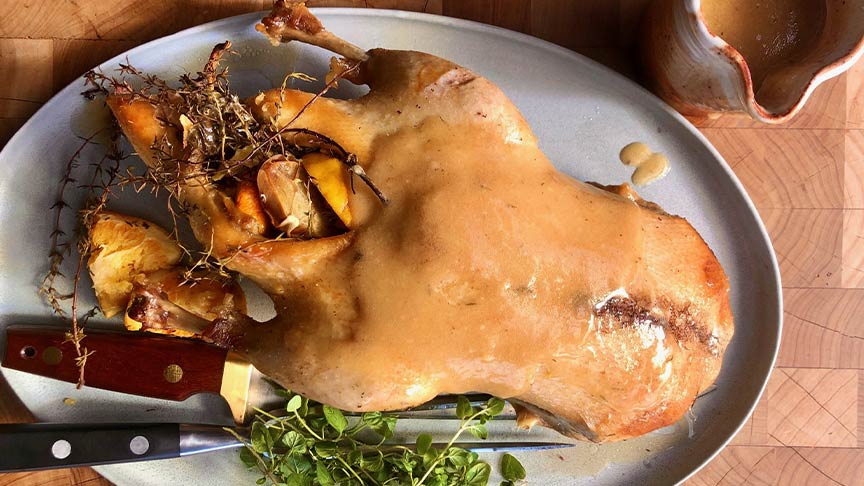 By Michael van de Elzen
Serves 6
Ingredients
1 duck (I used a size 20)
3 oranges, juiced and quartered (should be 1 cup of juice)
3/4 cup of port
3 Tbsp flour
1 Tbsp sea salt balsamic vinegar
1 Tbsp raw sugar
10 star anise
2 knobs ginger, cut in half
1 bulb of garlic, cut in half
1 handful of thyme
Preheat the oven to 160C.
Prepare the duck by removing its head, feet and winglets.
Make the stuffing by cutting the oranges into 1/4 and squeezing out the juice into a separate jug. Place the oranges quarters along with the raw sugar, star anise, peppercorns, ginger, garlic and thyme into a big bowl and combine. Pack as much as you can into the cavity of the duck, rubbing the remaining salt and seasoning over the outside of the duck.
Take a large oven bag and spoon in the flour, orange juice and port. Give it a good shake before placing in the duck inside and tying up. Keep a small hole in the top for the steam to escape.
Place into the oven for 2 hours before removing and checking. Insert a small knife into the side of the leg, if the juices run clear it's good. Otherwise pop it back in for another 30 minutes.
Remove the duck from the oven and allowing to rest in the bag until ready to serve. Take the duck out of the bag and then carefully shake the remaining ingredients before passing through a sieve to make a gravy and serving alongside the whole duck.
Enjoy!