Calf rearer and beef farmer, Tim Dangen, was awarded the title in front of family, friends, and supporters in Whangārei on Saturday 9 July.
Representing the Northern region, 30 year old Tim said he was overcome with emotion and relieved to be finishing the contest on a high. "My goal was always to get here to give it a crack. I'm fortunate to be here and it's just a reflection of the support group around me." Dangen said the preparation for this moment has been many years in the making. Having competed in four Regional Finals, 2022 was finally his year to represent the Northern region at the Grand Final.
The Auckland City Young Farmer summed up the 2022 contest saying, "it has been a great experience, I've met a bunch of good people, learnt a whole lot and got a lot of growth out of it. I love this competition to bits."
The 2022 Contest was met with excitement and some high calibre competition—with seven of the strongest competitors vying for the title. Now into its 54th year, the FMG Young Farmer of the Year Contest is the flagship event for NZ Young Farmers and tests every aspect of modern farming across the whole supply chain, while further showcasing our country's food and fibre story.
The Grand Final
This is a full-on three-day event including head-to-head competition plus technical elements, such as an interview challenge and innovation project. The contestants must also deliver a convincing speech on a topic given to them just a few days prior. The last challenge is the infamous quiz on awards night, where contestants battle it out in six, buzzer beater rounds of agricultural and general knowledge questions. Te Kawa West Young Farmer, Chris Poole, was named runner up FMG Young Farmer of the Year, and also won the Agri Skills Award. Dunsandel Young Farmer, Jonny Brown, took out third place.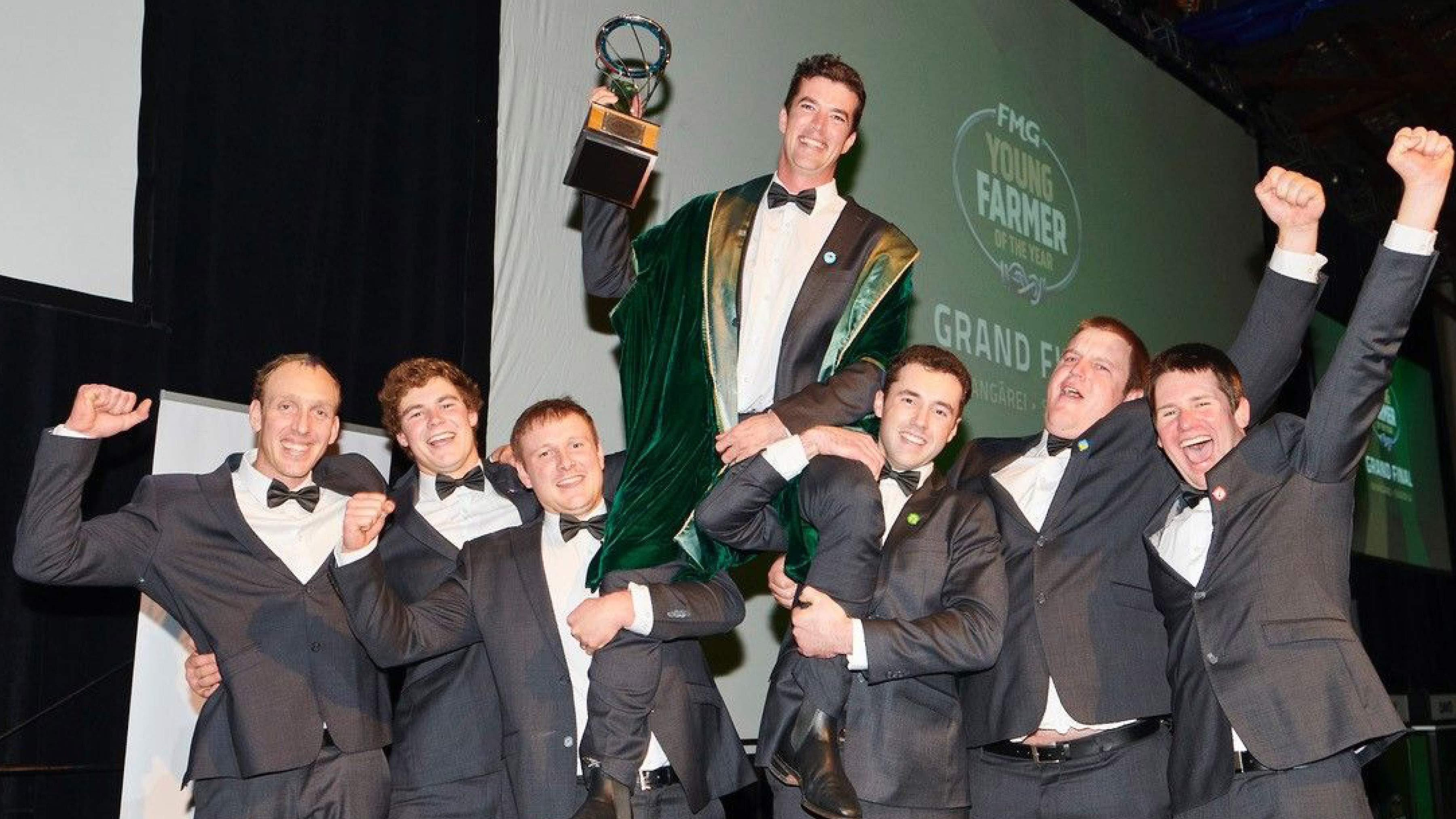 FMG People's Choice Award
This year, the seven finalists got to choose a Social Media Manager to help with their quest to social media stardom. Congratulations to our winner, Tim Dangen, from Auckland City Club and his Social Media Manager, Jenny Dangen. The People's Choice Award gives the finalists experience in marketing themselves in the sector and to encourage local clubs and the public to get more involved with the Contest. Tim did a stellar job, showcasing his skills across his Facebook Page and focusing on video content and his family history on farm. For winning, Tim received $1,500, his Social Media Manager received $1,500 and $1,000 went towards his Young Farmers club, Auckland City.
FMG Junior Young Farmer of the Year
Secondary school students from seven districts competed in teams of two, tackling similar modules to their older members. Congratulations to the dynamic duo of Erin Humm and Amelia Ridgen from Christchurch Girls High for winning the title of 2022 FMG Junior Young Farmers of the Year.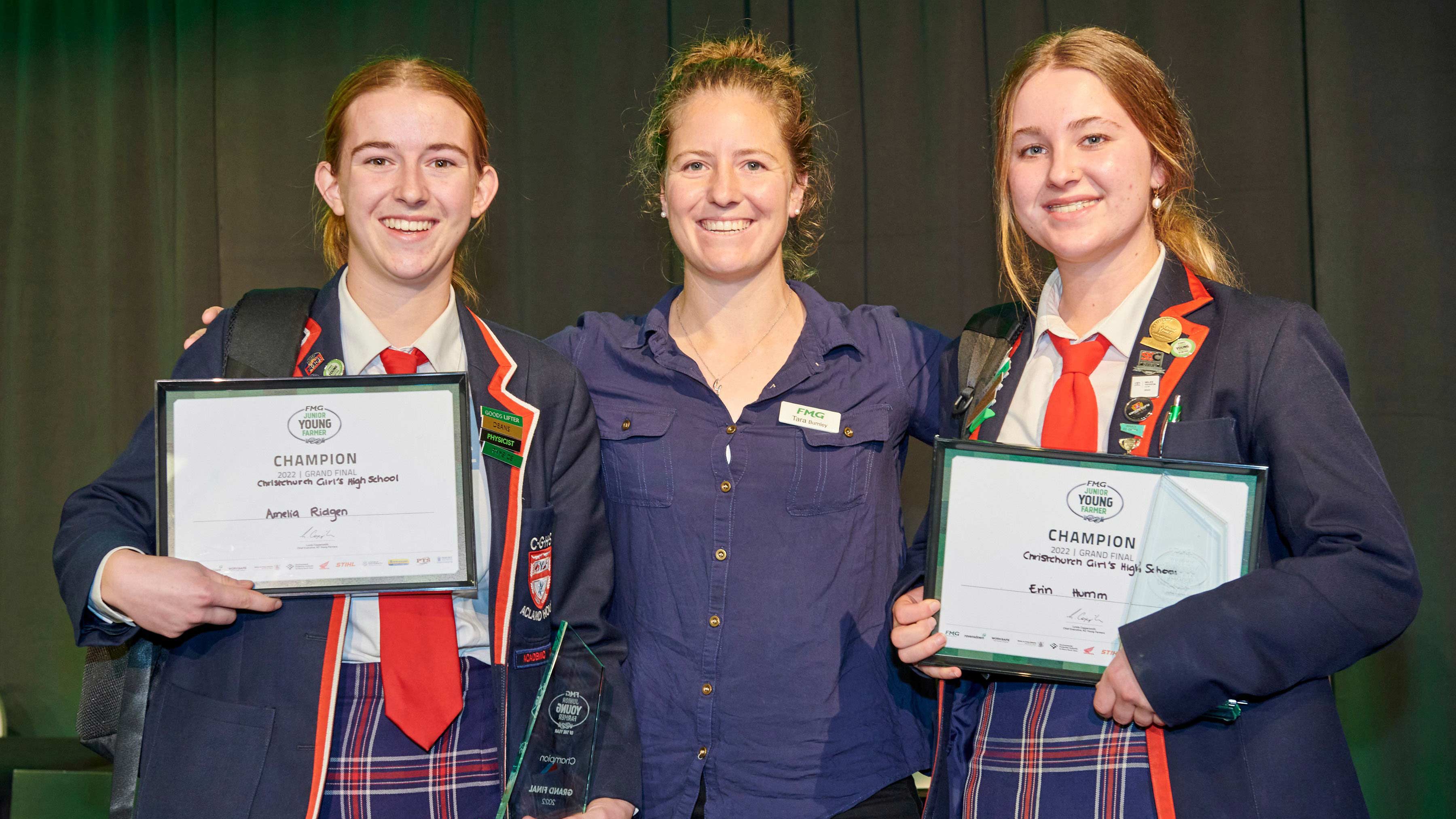 Agrikids NZ
Congratulations to Waikato team Liam Hodgson (Pirongia School), Archie Keelty (St Patrick's School) and Leighton Barnett (St Columbus School), pictured with FMG's Tara Burnley (Mobile Rural Consultant) for winning the 2022 AgriKidsNZ competition. This is for our primary school-aged children and runs alongside the main Contest.