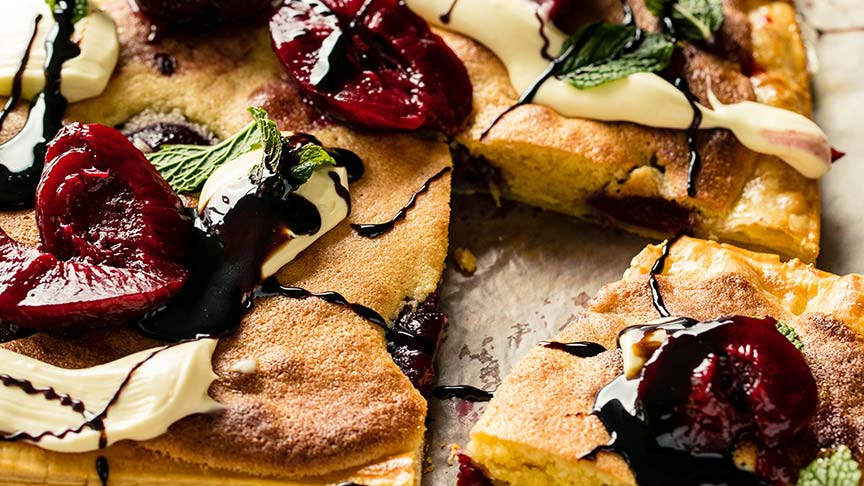 By Michael van de Elzen
Serves 6
Ingredients
2 sheets of frozen puff pastry
6 plums, de-stoned and halved
125g butter, softened
125g caster sugar
3 eggs
1 Tbsp plain flour
150ml balsamic vinegar
2 Tbsp brown sugar
150ml creme fraiche
Handful mint leaves
Preheat the oven to 180C.
Beat one of the eggs with a fork to make an egg wash. Brush this around the edge of one of the sheets of puff pastry. Cut a 5cm 'frame' from the other sheet and lay this on top of the egg washed sheet. Pinch the edges together and prick the center of the pastry with a fork. Lay the pastry sheets on a baking tray lined with baking paper. Then spread out half the plums with the cut side facing up.
In a food processor, blitz the butter, sugar, 2 eggs, almonds and flour. Spoon this mix into the centre of the pastry sheets. Bake in the oven for 20-25 minutes and allow to cool.
In a small saucepan, add the balsamic vinegar and brown sugar and reduce over heat to about 3 Tbsp of thick liquid. Mix 1 Tbsp through the crème fraiche. Add the other half of the plums through the balsamic reduction. Spoon these over the tart along with the crème fraiche and garnish with mint leaves.
This is a great recipe at the end of plum season to use up any leftovers. You can easily swap out the plums for any stone-fruit such as nectarines, peaches and even the first of the seasons apples.