Arancini balls are basically finished risotto that's been allowed to cool, rolled into ball, crumbed and deep-fried till golden and crunchy! In other words, crispy ball of cheesy goodness! They can be pretty much any flavour you wish them to be but I do find that pumpkin and mushroom work well.
I sometimes make up a mushroom risotto, serve it for dinner and cool the rest. The following day I roll into a ball, insert a little piece of mozzarella into the middle and then crumb. Once fried, the mozzarella will go all gooey making for a great snack when served with some spicy chipotle mayonnaise. Arancini also freeze really well and can be deep-fried straight from the freezer.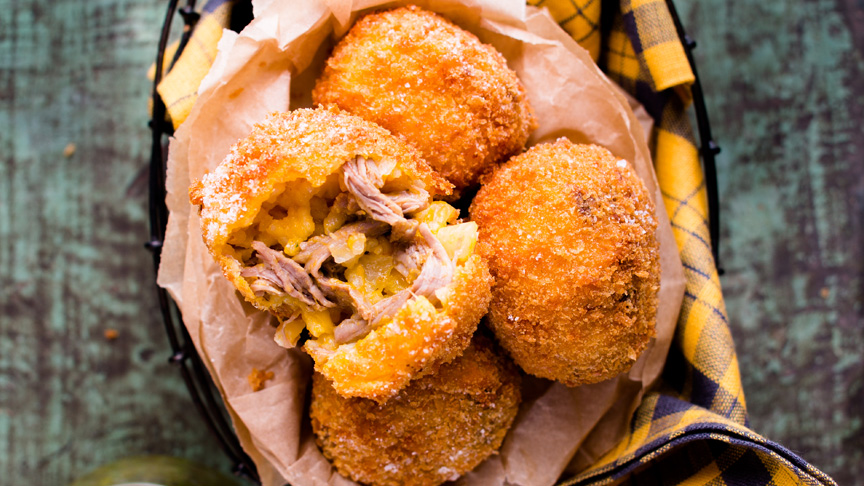 By Michael Van de Elzen
Makes around 24 small balls
Ingredients
½ small pumpkin, peeled, deseeded and cut into large chunks
250g boneless lamb shoulder chops
1 small onion, finely diced
2 cloves garlic, finely diced
2 tbsp cooking oil
1½ cups risotto rice
3 cups warm vegetable stock
½ cup finely grated good quality parmesan
100g unsalted butter, cut into cubes
6 tbsp flour
2 eggs, lightly beaten with 1 cup of water
2 cup panko crumbs
salt and cracked black pepper
Oil for deep frying
Preheat oven to 180*C. Place pumpkin in a large pot of salted water and bring to the boil. Cook until soft, drain and cover with a tea towel for 5 minutes to steam dry. Mash pumpkin until smooth and set aside. Season lamb with salt and pepper and sear in a hot pan until just coloured. Wrap in tin foil, and cook in oven for 30 minutes or until tender.
Sauté onion and garlic in oil until translucent. Add rice and cook for 2 minutes, stirring frequently. Gradually add stock, allowing rice to absorb it between each addition. Mix in cooked pumpkin and parmesan once all stock has been added. Remove from the heat and finally stir in the butter. Check the seasoning and lay risotto mix out on a large tray. Refrigerate for 30 minutes.
Heat oil in deep fryer to 180*C.
Remove lamb from oven, rest for 5 minutes, then shred lamb back into cooking juices. Roll rice into 10-12 balls, inserting equal amounts of shredded lamb into the centre of each. Coat each ball firstly in the flour, then egg, then panko crumbs. Deep fry until golden and serve with dijon salsa verde.
---
Dijon salsa verde (makes 1 cup)
½ cup basil leaves, chopped
½ cup Italian parsley, chopped
2 tbsp baby capers, drained and chopped
1 clove garlic, crushed
zest and juice of 1 lemon
2 tbsp olive oil
2 tbsp finely grated parmesan
1 tbsp Dijon mustard
Sea salt and freshly ground black pepper
Place basil, parsley, capers, garlic and lemon zest in a bowl. Add enough olive oil to make the mixture wet. Add parmesan, remaining olive oil and mustard. Add lemon juice and salt and pepper to taste. Store in a jar in the fridge until ready to use.